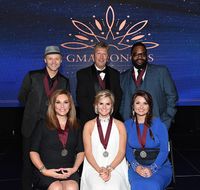 Nashville, TN (May 12, 2016) – The Nelons were inducted in the GMA Gospel Music Hall of Fame in a ceremony earlier this week in Nashville, TN.  The legendary group joins Dolly Parton, Aretha Franklin, George Beverly Shea, Bill Gaither, Andrae Crouch, Billy Graham, Wendy Bagwell & The Sunliters, Sandi Patty, Vestal Goodman and a host of others. The GMA Honors and GMA Gospel Music Hall of Fame induction ceremony took place on Tuesday, May 10, 2016 at Lipscomb University's Allen Arena. 
Selah, Travis Cottrell and Michael English honored The Nelons with a medley of Nelon classics while Bill Gaither spoke about his love and admiration for the legendary group. Kelly Nelon Clark accepted the induction and spoke words of thankfullness and gratitude and honor to her father, Rex Nelon, who began the group in 1977.

PHOTO BY JASON DAVIS / GETTY IMAGES FOR GMA

For more images from this event, Click Here!